So, you've got a patio, and it's as dull as a beige wall, right? Do you want to jazz it up with a bit of greenery without all the fuss of real plants? Well, look no further, my friend, because we're diving headfirst into the world of Topiary Balls! These nifty spherical wonders can give your outdoor space a touch of elegance that'll make your patio the talk of the town.
Topiary Balls: A Quick Introduction
Let's start with the basics. Topiary Balls are bushes or trees that have been trimmed and shaped into round, lush forms. But here's the kicker: the ones we're talking about here are fake. Yep,  look real (some more than others), but they won't ever make you break a sweat with plant care.
Why Go Fake? Real Plants Are High Maintenance
Let's be honest – real plants can be a real handful. They need water, sunlight, and regular attention. They're like needy houseguests that won't leave you alone. But, artificial topiary balls are the laid-back buddies you've always wanted. They won't wither if you forget to water them, and they definitely won't complain about neglect.
Getting Creative with Topiary Balls
Now, let's talk about the fun part – how to make your patio pop with these green spheres.
Hedgehog Hangout: Imagine strategically placing a couple of Topiary Balls and creating a cozy hideaway. Throw in some small fake mushrooms for extra charm. Your patio will transform into a fairytale forest without needing a fairy godmother.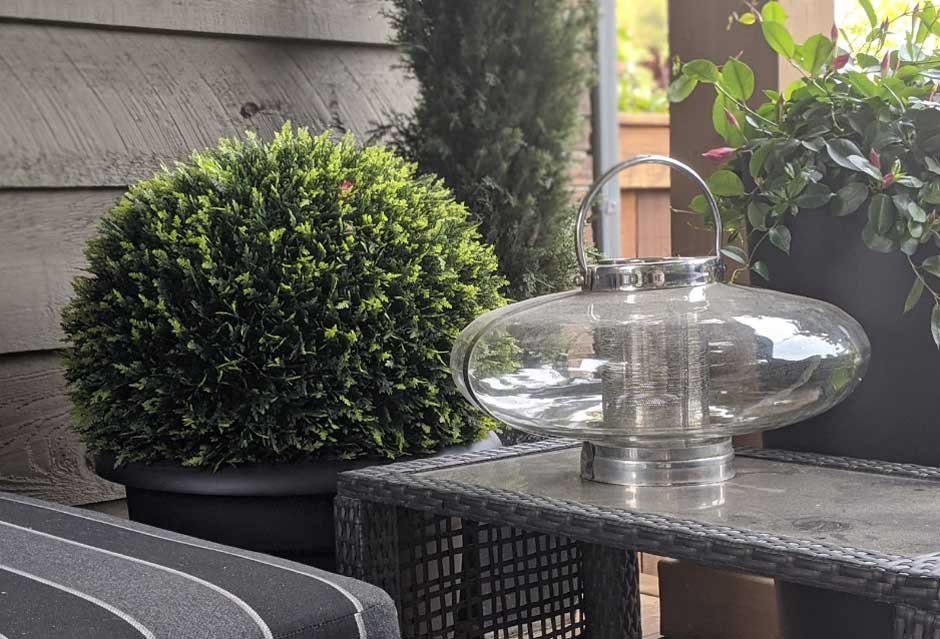 Chandelier Vibes: Ever thought about hanging Topiary Balls like you would a flower basket? Why not make use of the hooks that are already hanging from your porch?  Add some battery-powered fairy lights, and you've got yourself a magical evening setting.
Topiary Zoo: Mix and match Topiary Balls of different sizes to create your very own topiary zoo. Whether it's animals, abstract shapes, or just simple spheres – your garden can be your canvas!
Other than Greens: Feeling adventurous?  How about trying a color to fill your planters that is not green, like these purple objects of beauty. You'll get compliments and a  foliage type like the vibrant purple here can be left out all year long in 4 season climates.
No More Pruning Headaches
One of the best things about artificial Topiary Balls is that they're fuss-free. Real topiaries demand hours of shaping and pruning to look sharp. With these artificial gems, you can just set them up, and that's it! Your garden masterpiece is ready to shine.
The Perfect Patio Companions
Topiary Balls are the ultimate party guests. They can blend in with your patio's vibe or steal the show, depending on your mood.
Choosing the Right Size
When it comes to picking Topiary Balls, size matters.  If you are looking to make a lot of impact go big – get the largest topiary balls you can get your hands on.  23 inch diameter is generally the largest size topiary ball you'll find, which fits perfectly in most large scale planters.    The 23 inch topiary ball size ball can be used in any planter that has an opening of 12 inches or more.  There isn't an exact formula, you just want to make sure that your Topiary Balls don't fall inside of your planters.  If your topiary ball is larger than your planter opening , you can prop them up by placing them on top of your filled planters.   
Topiary balls for filling window boxes
Do you like the idea of having your window box (long rectangular) planters filled all year long?  I'm talking about the perfect little round finishing touch.  You'll be impressed by the visual impact they make when grouped together, and the best part is that they are colorful all year long (for those of us in all weather climates). 
To put it simply: Topiary Balls are like your patio's secret weapon:
In a world where plants can be picky and decorations can be a real headache, these little green wonders come to the rescue. They're like your fun, easygoing buddies that bring charm and personality without any fuss. Whether you're a pro at gardening or just someone who enjoys pretty things, you can enjoy the beauty of nature right in your backyard. Sprinkle in some creativity and a bit of humor, and watch your patio become the envy of the neighborhood. So, go on, start decorating, and let your patio always be as vibrant as your imagination!
Topiary Balls for All Seasons
But wait, there's more! Let's explore how you can keep Topiary Balls in action all year round.
Spring Fling: In the spring, why not try Topiary Balls with colorful lavender flowers? They'll look like blooming masterpieces without triggering any allergies.
Summer Fun:  Go about your summer doing the things you wish to be doing like biking, traveling, camping, and hosting summer barbeques.  You'll always come back home to your planters looking cheerful, and guess what?  You are gonna love that.  
Autumn Elegance: As the leaves start to fall in the autumn, wrap your Topiary Balls with faux leaves and tiny pumpkins.  Or try orange eucalyptus topiary balls, go bold or go home.  You'll create an instant autumnal atmosphere.
Winter Whimsy: When winter arrives, decorate your Topiary Balls with mini twinkling lights. or just enjoy the added wintergreen wonderland without freezing your fingers off.
Topiary Balls: The Masters of Mimicry
One of the fantastic things about artificial Topiary Balls is how closely they resemble the real deal, especially the ones pictured here.   Your guests will do a double-take to believe they're not genuine. Plus, they won't shed leaves or petals, keeping your patio or front door decor clean and tidy.
Don't Forget the Planters
While Topiary Balls steal the show, don't forget about the containers they come in. Fancy pots or quirky planters can add an extra layer of charm to your patio décor. You can go classic with terracotta or pedestal, sleek with modern designs, or vintage for that eclectic look.
In a Nutshell: Topiary Balls – Your Patio's Passport to Paradise
In a nutshell, Topiary Balls are like your golden ticket to transforming your patio into a magical wonderland. They're artificial, so you can enjoy all the garden charm without the fuss of taking care of real plants. It doesn't matter if you're a pro at gardening or just someone who likes to decorate casually – you can bring the beauty of the outdoors right to your backyard. Add a bit of creativity and humor, and your patio will become the coolest spot in the neighborhood, and you'll be the talk of the town. Have fun decorating, and may your patio always be as vibrant as your imagination!